It's the long-awaited return of Patrick "The Predator" Cote to the Octagon, as he faces the very formidable test of Alan "The Talent" Belcher at middleweight.
If nothing else, Cote wins the nickname contest.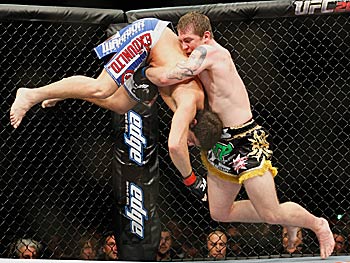 Round 1:
The crowd is chanting for hometown fighter Cote right off the bat. Belcher with a low kick. More kicks to the ribs by Belcher. He throws an inside leg kick and nails Cote right in the cup. Cote shakes it off and we continue. Cote moving in with jabs as Belcher throws more kicks to the body. Belcher misses a boxing combo. Cote clinches and takes Belcher down.
Belcher is on the bottom working butterfly guard, trying to sweep. Cote advances to half guard and begins cranking on an armbar. The crowd is going nuts. Belcher escapes and sweeps, ending up in Cote's half guard. Belcher sinks in an arm triangle and advances to side control, but he can't hold onto the choke. Belcher moves to north-south position and Cote gets to his knees. The round ends with another Belcher arm triangle attempt. 10-9 Belcher.
Round 2:
Belcher goes right back to the body kicks. Cote with a nice left hook, then an uppercut-hook combo. Cote opens up and lands a series of very solid punches. Belcher clinches Cote against the fence. Cote throws short elbows to break the clinch and they exchange strikes at point-blank range before Cote catches Belcher's leg on a knee to the body, trying to take him down.
Cote holds on to the double leg, so Belcher gut-wrenches him into the air and slams him face-down on the mat. (For you WWE fans, if Belcher had underhooks instead of a gutwrench, that move would have been called a pedigree.) Belcher uses the impact to take Cote's back and tap him out with a rear naked choke.
Winner: Alan Belcher
defeats
Patrick Cote
via submission to a rear naked choke at 3:25 of Round 2.
Belcher calls out Anderson Silva after the win, saying he can stand with him. He'll have to catch him first.