Knockout artist Paul "Semtex" Daley takes on Josh Koscheck here, in a fight that has implications on who will next challenge for Georges St-Pierre's welterweight title.
Unless Dana White signs Jake Shields (and by all appearances, he will) and hot-shots him into a GSP title fight immediately, the winner of Koscheck vs. Daley will fight GSP next.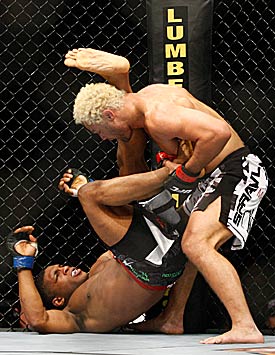 Round 1:
No touch of gloves to start the round. They've been calling each other terrible names for weeks now, so that's not a shock. Daley immediately tries a flying knee and misses. It's almost a minute before either guy attempts something with both being very cautious of the other's striking. Koscheck with a double leg takedown.
Daley tries to stand and gets taken back down. Koscheck is in side control trying to improve to mount, but he ends up stepping into half guard. Koscheck trying to throw strikes but he's not getting much in. Daley tries to scramble free and Koscheck takes his back, trying for a rear naked choke. Koscheck gets one hook in, still fighting for the rear naked choke. He nearly gets it, before Daley scrambles free. Daley throws a knee as Koscheck is trying to stand up.
Referee Dan Miragliotta immediately takes a point away and asks Koscheck if he is OK. Koscheck is still down, but here's where it gets interesting. A slo-mo replay shows that the knee didn't connect with Koscheck's head, and also shows that Koscheck looks at the referee and makes an angry expression about the illegal strike before flopping to his stomach and suddenly appearing incapable of fending for himself.
Basically, Koscheck flopped, and acted his way into getting a one-point deduction. But the fight resumed, and between rounds, Miragliotta confirmed that the knee didn't connect and redacted the point deduction from Daley. After all that, I'd score the round 10-9 Koscheck... if the deduction stuck, I'd have scored it 10-8.
Round 2:
Koscheck with a leg kick. Daley with some boxing, Koscheck answers with a takedown. Side control by Koscheck. Daley traps the leg for half guard. Koscheck with intermittent strikes as he tries for full mount, but Daley is defending the pass well. Koscheck with elbows and fists from the top. Daley once again avoids being mounted.
Daley scrambles while Koscheck throws strikes and winds up with his back again. Koscheck with hooks in, trying for the rear naked choke again. Daley defends it, but can't escape before the round ends. 10-9 Koscheck.
Round 3:
Koscheck humors Daley by standing for a while, but then goes right back to the takedowns. He's back in Daley's half guard. Daley has double underhooks while Koscheck hammers away at his temple. Koscheck finally achieves full mount. Daley is fighting hard to escape but every time he turns, he's in danger of giving up his back. He gets back to half guard. Koscheck basically holds Daley down until the buzzer. The crowd boos. 10-9 Koscheck, so I score it 30-27 Koscheck.
When they stand up, Daley follows Koscheck, and when he turns around Daley sucker-punches him with a left hook, LONG after the end of the fight. Totally unprofessional, and likely will get him booted from the UFC and suspended by the commission.
Winner: Josh Koscheck
defeats
Paul Daley
via unanimous decision (30-27, 30-27, 30-27) after three rounds.