Last week, Affliction and M-1 Global issued a string of press releases alerting the media to a pair of press conferences -- one to be held Wednesday in New York, and another on Thursday in Los Angeles -- "to announce 'Trilogy,'
Fedor Emelianenko
vs.
Josh Barnett
, on August 1 at the Honda Center in Anaheim, CA; Live on Pay-Per-View."
That quote is taken directly from one of the press releases, which begs the question: What's left to announce?
Beans-spilling press releases aside, the story here is that Emelianenko vs. Barnett is finally going to happen, not that Affliction is flying people all over the country to reveal that which has already been revealed.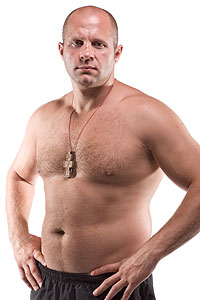 Barnett (24-5-0) has been the second-best heavyweight on the Affliction roster since virtually day one. But due to a number of circumstances --
Tim Sylvia
being available to fight Fedor last summer,
Andrei Arlovski
getting the honors for Affliction 2 -- he has never fought "The Last Emperor." Not even in Pride, where both men enjoyed lots of career success. At last, Barnett will get his shot at the man widely considered the best heavyweight MMA fighter on this planet.
For Fedor Emelianenko (30-1-0, 1 NC), Barnett not only represents the stiffest challenge possible among guys he hasn't fought yet, but he also may be his final worthwhile opponent outside of the UFC roster. Simply put: If Emelianenko beats Barnett on Aug. 1, there will be no more credible opponents for him in any promotion other than the UFC. And that's where things get truly interesting. Consider the following:
1)
After Affliction's second PPV in January, speculation swirled that the company would only promote one more show -- tentatively scheduled for the summer, as "Affliction: Trilogy" is -- before bowing out of the MMA promotion business for good. But in
a recent interview
with MMA FanHouse's Ariel Helwani, Affliction COO
Michael Cohen
not only insisted that Affliction: Trilogy would not be the last event, but he promised a fourth, fifth and sixth show.
The trouble is, Emelianenko vs. Barnett is believed to be the last remaining fight on Emelianenko's Affliction contract. If that's the case, and if Emelianenko ends up running the table on Affliction's main event-worthy heavyweights, would it be financially viable for Affliction to re-up Emelianenko if the quality of his PPV opponents will go south? Spending big for a superstar fighter is only worthwhile if the profit outweighs the expenditure, and all indications are that Affliction hasn't yet figured out how to come out of its investments with a profit.
2)
If Affliction does try to re-sign Emelianenko, there's a good chance it would be for a lot less money. In this economy, the decision may not even be up to Affliction anymore. They could be willing to pay him $1 million per fight -- hypothetically, of course -- but if they can't secure the financing to pull it off, will they be willing to pay Fedor out of pocket? If the UFC can match or beat Affliction's financial offer to Emelianenko, then the only remaining roadblock to him signing with the UFC would be the exclusivity issue. Which remains a potential deal-breaker for sure, but with Emelianenko running out of options and the UFC still wanting to book him, one or both sides could budge on their demands enough to meet somewhere close to the middle. The state of the MMA business and the world economy in general means that an Emelianenko-UFC negotiation might go a little differently today than it did in 2007 or 2008.
3)
While it would take several major pieces falling into place for it to happen, an Emelianenko deal with the UFC might not be as far-fetched as some think. In a February interview with
DreamFighters.com
, Fedor said "Me and my management hope to get a chance to talk to
Dana White
in person in June to discuss a possible fight between me and
Brock [Lesnar]
." Sure enough, on Sunday -- the last day of May -- Dana White was Twittering about having a "HUGE" meeting in Los Angeles the next day. "Insane for UFC fans if we get this done," he tweeted.
Then, in a
video blog
posted on YouTube on Tuesday, White mentioned the
Kimbo Slice
participation on The Ultimate Fighter
, and followed up with this:
"
Lorenzo [Fertitta]
and I had a killer, killer meeting in Los Angeles today, and I was hoping I would be able to tell you about it today, but the way deals go, they take time," White said in the video. "So I can't tell you today, but I can tell you it was a great meeting and I'm feeling very confident that we're gonna get this deal done, and it's gonna literally change the UFC forever."
We know Emelianenko is in the U.S. this week. Could it be?
Wait -- let me rephrase that.
Who else
could it
possibly
be?