By beating Nate Diaz at UFC Fight Night 20, Gray Maynard was supposed to control his own destiny. While the fight wasn't explicitly for the No. 1 contendership to BJ Penn's lightweight title (there certainly was no pre-fight indication that Nate Diaz would have entered the title picture, even with a win), the consensus was that Gray Maynard could convince the UFC brass to give him the next crack at the 155-pound title with a strong victory.
The good news, for Maynard, is that he won the fight. The bad news is that by most early indications, the UFC is now leaning toward Frank Edgar for a lightweight title bout vs. Penn.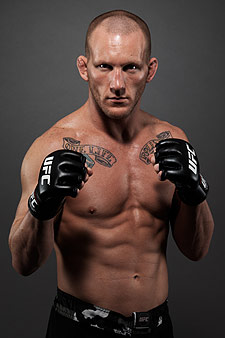 Maynard hasn't lost an MMA fight yet. He even beat Edgar via unanimous decision way back at UFC Fight Night 13 in 2008, which remains Edgar's only professional loss. UFC president Dana White has said in the past that while the promotion encourages exciting fights (and rewards fighters financially for them, via an assortment of fight night and "locker room" bonuses), the single most important statistic in deciding who gets a title shot is victories.
Edgar's got six UFC wins. Maynard has seven. If they were tied, as they were prior to this fight, Maynard might earn the title shot due to beating Edgar in 2008. But while Maynard's win over Edgar matters, there are a number of other issues at play when considering Edgar for the title shot.
Among them:

Lightweight parity.
While there are a number of skilled, hard-working fighters at 155, they have all struggled to separate themselves from the pack as a true championship-caliber fighter. Nobody will dispute the ability of Maynard, Edgar, Diaz, Clay Guida, Diego Sanchez, Joe Stevenson, Kenny Florian, or about a half dozen other UFC lightweights that could, on their best day, probably score a victory over the rest of the contenders. Some have more victories than others, of course. But for the most part, there isn't a lightweight in the UFC right now that has been smashing opponents with so much authority that they're on a clear collision course with Penn. The closest we've come to that in the past two years is probably Kenny Florian, who already gave Penn his best shot in 2009.
Penn's dominance.
In the lightweight division, there is simply nobody close to the level of BJ Penn in terms of overall ability. The UFC lines them up, and Penn knocks them down with ease. Past challengers like Stevenson, Florian and Sanchez have looked impressive in earning their title shots, but when they fought Penn, he made them look like comparative amateurs. And these guys all had a legit claim to being the top contender when they fought Penn. Part of the problem with choosing the best challenger for BJ Penn is that right now, nobody looks like a challenge at all, let alone a serious threat to "The Prodigy."
Marketability.
It's the elephant in the room that nobody wants to mention. Especially since in the pure sporting sense, a fighter's Q rating should have nothing to do with whether he deserves a title shot. But fight promotion is a business. If nobody wants to watch a certain fighter, the promoter is basically conceding to a poor gate, a subpar PPV buyrate or a weak TV rating by putting that fighter in a main event.
Here is where Edgar begins to look like a better choice than Maynard, despite his loss to Maynard two years ago. Despite being unbeaten in the Octagon, Maynard is a relatively bland interview and not a particularly exciting guy to watch. Edgar is a little more exciting and a little more "sellable" in terms of putting him on a countdown show or sending him on media junkets. Edgar is likable. Maynard isn't exceptionally likeable, nor is he overtly easy to hate (which arguably sells more PPVs than likeability does -- think Tito Ortiz or Brock Lesnar). In terms of connecting with viewers, in comparison to Edgar, Maynard is just sort of... there.
There are also considerations for things like fighter availability (Penn will fight when he's ready and if a middling title contender can't go at the time, that contender is probably out of luck), fight location (not an issue for this particular situation), contract status (one fight left on your deal = no title shot until you renew) or a bigger-money fight trumping a title shot (think Rampage vs. Rashad).
Does Maynard deserve a title shot? In comparison to the rest of the 155-pound field, yes. He's as worthy as the rest of them, and moreso in most cases.
But as Fight Night 20 showed, sometimes gutting out a win via decision just doesn't cut it when there are so many other factors casting a shadow over the matchmaking process.